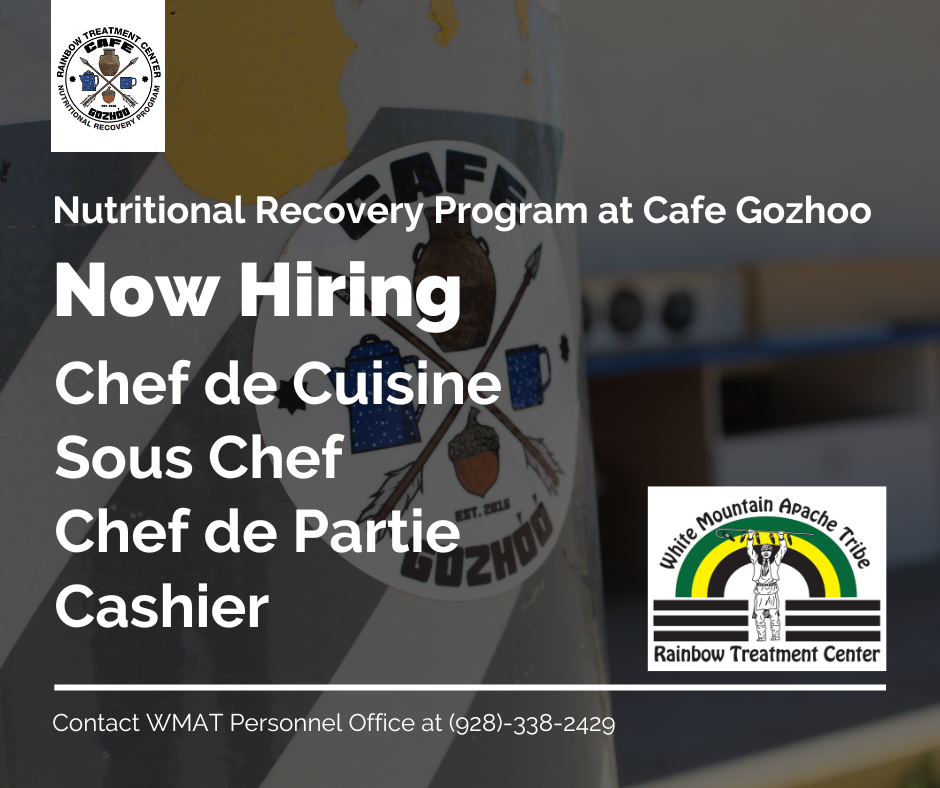 Our RTC Nutritional Recovery Program at Cafe Gozhoo is looking to hire additional staff immediately as full time Rainbow Treatment Center employees at Cafe Gozhoo.
Allow me to describe our exciting culinary positions that we are offering.
We currently have the following full-time positions open:
Chef de Cuisine – A supervisory Chef that leads teams, assists with menu creation, training new staff, menu planning, management and culinary operations. Experience required.
Sous Chef – A supervisory chef that leads, trains, assists with menu items, food prep, management, and culinary operations. Experience required.
Chef de Partie (Line Cook): Prepares menu items, assists with specials, prepares meat, fish, poultry, vegetables and sauces as directed by supervisory chefs. Experience preferred. 2 positions open.
Cashier – Takes care of business transactions at the register, handles money, tracks sales, set up and cash out duties, assists with other tasks as needed in the cafe.
These are all Full-Time RTC positions that we would like to fill very soon. Cafe Gozhoo is a dynamic environment that beyond delicious food and beverages, provides client care in the form of relapse prevention training, vocational training while integrating indigenous food-ways for public health.
Requirements:Must have a valid AZ Drivers License, 3 reference letters produced in last 90 days, and a HS Diploma/GED.
INDIVIDUALS MUST APPLY WITH WMAT PERSONNEL OFFICE ASAP. Job description are posted at WMAT personnel office.
Please share with the people in your lives that are looking for work here in Whiteriver. We would like to bring on new crew members soon as we can!
If you have any questions, please let me know. Thank you in advance for your assistance! I/we appreciate it very much!